Jungheinrich PROFISHOP
Profi-Guide: Online guide brings 107 % more impressions
---
How search engine optimized and targeted guidebook content can improve important SEO KPIs
In its online store, Jungheinrich PROFISHOP offers industrial trucks and products for professional business equipment for warehousing, logistics, industrial and trade operations.
The company, headquartered in Hamburg, Germany, wanted to provide useful information about the products offered in the store and inform about current topics in the fields of trade, logistics and warehousing by creating a comprehensive guide.
Together with the customer, we developed a comprehensive SEO content strategy. As part of this, we continuously create multi-value guide and blog texts in several languages, which have led to 107% more impressions, 109% more clicks and a 94% increase in organic traffic since going live in May 2020 (as of December 2022).
---
Client
Industry
Website
https://www.jh-profishop.de/
Services
Content strategy consulting

Development of various content formats

Localization of texts for more than 10 countries
The challenge
The products in the Jungheinrich PROFISHOP online store are designed for professional use and mostly require a significant amount of consultation. The guide texts should therefore provide the necessary professional foundation and add value relevant to the expert target group to establish Jungheinrich PROFISHOP as a trusted specialist. At the same time, the texts should be suitable for creating a meaningful connection to the online store.
Die Herausforderung
Die Produkte im Onlineshop von Jungheinrich PROFISHOP sind für die professionelle Nutzung ausgelegt und überwiegend sehr beratungsintensiv. Die Ratgebertexte sollten deshalb über die notwendige fachliche Fundiertheit und Mehrwertigkeit verfügen, um der fachkundigen Zielgruppe gerecht zu werden und Jungheinrich PROFISHOP als Spezialisten zu etablieren. Gleichzeitig sollten die Texte geeignet sein, eine sinnvolle Verbindung zum Onlineshop herzustellen.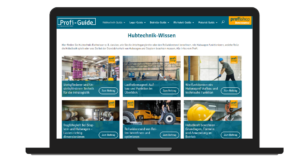 The solution
Development of a content strategy

Development and creation of a guide with product- and industry-relevant info texts for more than 10 European countries

Continuous maintenance and post-optimization of content to provide up-to-date and relevant search results

Development of innovative content formats
The implementation
In order to achieve the goals of Jungheinrich PROFISHOP and to ensure stable visibility of the guide as well as synergy effects on the online store in the long term, we have designed a complex online guide entitled "Profi-Guide" together with Jungheinrich PROFISHOP. For this, professional info texts on lifting technology, workshop, and material science as well as operational and occupational safety were planned and created. Innovative content formats were also used to help customers understand complex technical interrelationships more quickly and grasp them more easily on the move. To achieve this, we primarily relied on visually appealing elements: In addition to infographics and how-to instructions, we also developed an online calculator that customers can use to determine the aisle width for lift trucks, among other things.
The "Profi-Guide" guide has led to a significant increase in visibility and traffic across various European countries:
This is what Jungheinrich PROFISHOP says about working with us
Julia Sertel

"Expert knowledge, commitment and creative in-house developments: With the help of these building blocks, together with Claneo, we were able to create precisely tailored content for every informational search query related to our product range. With this content, we have not only created an added-value content hub, but also a sustainably successful digital guide for our users."
---
About the client
With over 100,000 articles from seven themed worlds, Jungheinrich PROFISHOP covers the entire range of business equipment needs. Both the online store and the printed catalog are indispensable purchasing aids for decision-makers in production, logistics, purchasing and administration.
This might also interest you
Content Marketing
We conceptualize holistic content marketing campaigns and develop sophisticated seeding strategies with maximum effectiveness. We focus on the marketing of informative content rather than on the mere promotion of services or products. You can fully rely on our expertise to implement value-added content marketing campaigns on your website.
Content
Good website content is more important today than ever before. Category and product texts increase sales, practical guides increase brand awareness. We deliver the best content in more than 10 languages!